Change the way of watching Television at Home
In this Tip I'll be sharing a way to help anyone seeking for a home media, entertainment experience better than getting into an expensive monthly bill for your traditional cable plan or having the basic free OTA (over-the-air) live TV. First, I have a background story to tell related to this new change. I was living quite good lifestyle, but I still don't want to waste money on a cable subscription plan. Something that will increase the price over the time. I just didn't think that subscribing to a cable plan will make me happy at all. That's why I choose free over the air live TV for my living room. Then i realize the hassle of having to constantly move back and forth or change the position of my antenna to be able to receive a good signal from times to times or during a bad weather. I thought maybe if I purchase a new antenna then signal would be better.
I went online to check if there's any good antenna I could purchase for my living room. Then, I came upon this news on Yahoo that the author talked about ways to cut the cord. I was surprisingly lucky that I found something related to what i am looking for. I read the whole article on cutting the cord and discover this new leaf antenna that would give me a better OTA (over the air) live TV with their enhance technology. Therefore, I went to their website and I immediately purchased their new leaf antenna. Their
company, called MOHU if you're curious to learn more about their products.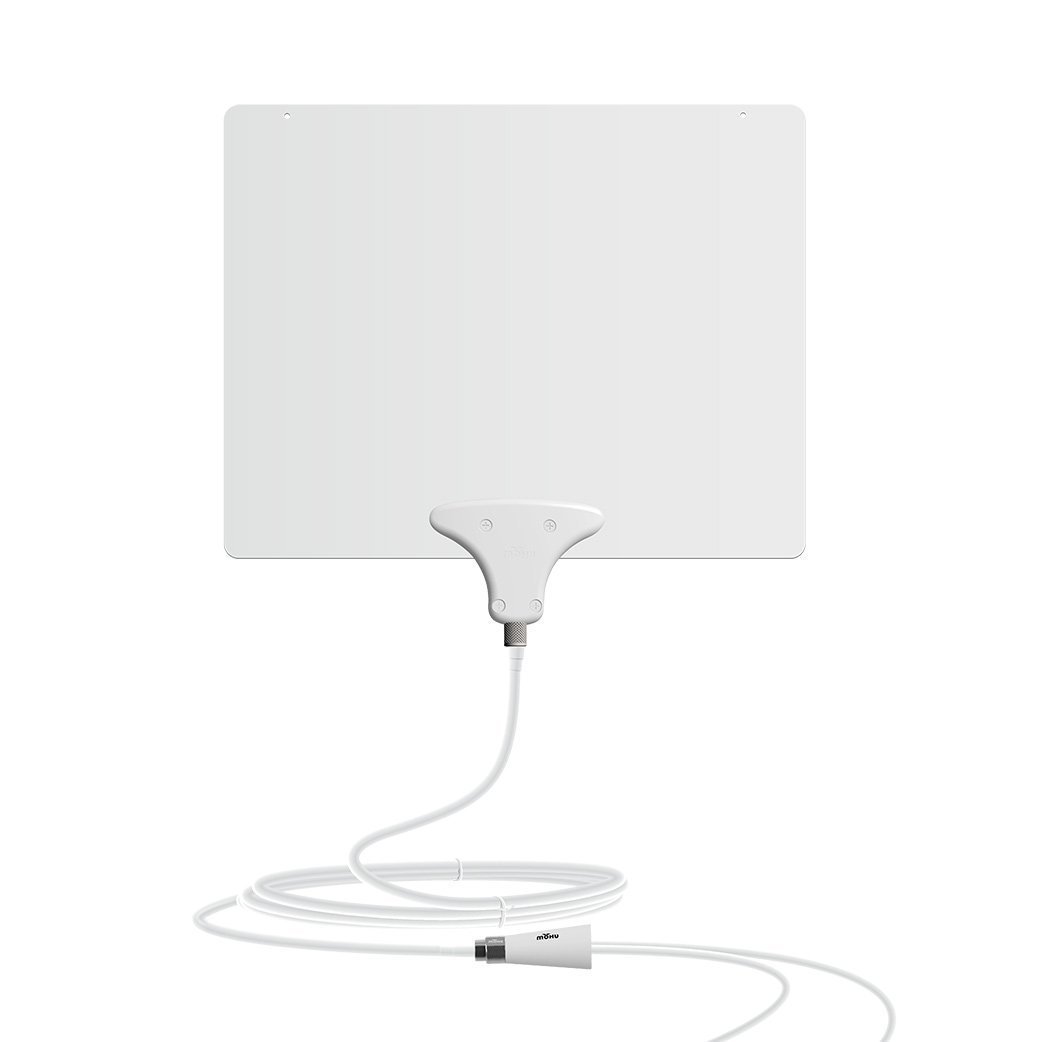 A
Few days later I received the nice packaging new leaf antenna. I quickly unbox the package and start to hook up on my television without reading their start up guide because everything on the package shown in the box is very straightforward. I go to setting on my television and start scanning & searching for digital/analog channel. After finished scanning all the lives channel it appear to be in HD (high definition) & I am amazed. Beside, i also receive a few new channels that i didn't get on my outdated antenna. I'm glad I do a quick search on the internet to help me solve this issue for live television. Moving on a year after my purchased of the new leaf antenna from Mohu, i feel kind of bored from watching all these live channels broadcasting same thing over and over again or something not very entertaining to watch. I once again go on the internet and seek for a better solution and I found Apple TV, Roku, Amazon Fire TV & Fire Stick, Chromecast and many more that can change any traditional TV into a smart TV because these devices has the platform that can display apps on your television with YouTube and Netflix just like a Google TV or Samsung smart TV.
However, I didn't know which one to purchase that will offer me the best experience for home media entertainment. The brand, prices, and specs for these gadgets are different. I do a quick research on each and every one of them. Then I came upon these random expensive Chinese brand TV boxes on google search that offers a ton of free to watch
movies, TV shows, live TV, sport and etc. with just an internet connection. The most popular TV box with almost good rating compared to the others TV boxes is the affordable G-Box Q from Matricom. I go ahead and purchased the Matricom TV box. When I received the package I unboxed the device and installed it on my television.
Now to watch movies I have to go to this app called Kodi or XBMC on the device. Also, there is a Google Playstore, Netflix, YouTube, and others useful apps pre-installed on the device that i can explore. Anyway, when I open Kodi I see no movies, TV shows, or anything they mention on the ad. In that moment I thought I got scammed. I have not returned the device yet instead I check out more details about the Kodi app online and found their main webpage. Finally, I have some clues on how to get movies, TV shows, sports and Cable live TV on Kodi with all the great tutorials on the internet. I am very excited and glad I found useful information to turn my basic OTA live television into a better home theater media entertainment. The best part about this is I don't have to spend money on a monthly cable bill subscription plan and I don't have to stick with all these same local channels displayed everyday with annoying advertisement.
Overall, I suggest you to cut the cord and follow what I do. You will appreciate for your decision. Moreover, if you consider a more better TV box and a stable internet connection i recommend you the Minix Neo U1 with Kodi installed. It works 10x better without any lag on the performance.The price will be more competitive than the other basic TV boxes obviously, but you'll be glad you picked the right one. However, i don't recommend anybody to fall for those rip-off TV Box price ranging from $200- $300 from the greedy company that overcharge you for just a basic TV Box specs. But you can buy confidently with my recommendation here at wishipro blog because i have taken the time and money to test out which TV Box actually do work for a reasonable price.
Finally, I just want to say that cutting the cord will give you many options and great choice to help you save money. Thank you for taking your time to read this post.